Sometimes we forget just how long the camera has been around. We still have a pretty good idea of what the Wild West really looked like, and it was awesome. Here are some cool Old West photos that show off this time period in all its glory.
The Old West's Rockstars
Nowadays, we think of outlaw gunslingers as being exceptionally cool and kind of romantic. The same was true at the time. Pearl Hart was one of the most famous outlaws of her day, thanks to an article in Cosmopolitan that detailed some of her crimes, including one of the era's final stagecoach robberies. Hart was eventually sent to jail, but was released in 1902 when she was pardoned - celebrities have always got off lightly when it comes to jail time.
A Casual Wager
Here, in a photo from 1900, men are gambling over a popular game called Faro. This bar in Bisbee, Arizona would have served the opportunity to play this game regularly.

The Cow Boy
This photo, taken by miner John C. H. Grabill, shows a cowboy in his field. The photo is entitled "The Cow Boy," and is a quintessential picture of the era.
Ned Christie
Ned Christie was a Cherokee statesman, serving in politics for a large portion of his life. Alas, he is more famous for the "Ned Cherokee War," the name given to the efforts of lawmen to arrest him following a (historically dubious) claim that he murdered a US marshal.
Quanah Parker
Quanah Parker is basically what you think of whenever you picture a Native American: a capable leader who clashed regularly with the United States government. Parker lead the Comanche nation at a time of great upheaval in the Old West, amid the final extinction of American bison, the Comanche's primary source of food.
The Bandit Queen
A well-educated woman from a wealthy family, Belle Starr had a thirst for adventure. Over the course of her life, she married several outlaws (life expectancy not being particularly high in their profession) and was pretty awesome in her own right. She used to ride side-saddle, dressed up in very fashionable clothing, shooting a pistol in each hand.
Texas Rangers
This group of Texas Rangers were among the first lawmen in the state of Texas. The Rangers served at different times as a military force, detectives, peace-keepers, and anti-corruption operatives. Plus, they knew how to grow and maintain some impressive mustaches.
Rose of Cimarron
Rose Dunn, also known as Rose of Cimarron, witnessed a gunfight between her outlaw boyfriend and law enforcers in Ingalls, Oklahoma Territory, in 1895. So, Dunn did what any sensible person would do, and picked up a gun to help defend her romantic partner. There's some debate about whether this photo was taken in the 1890s, or if it was a promotional picture taken in 1915 for the release of a movie based on Dunn's exploits as an outlaw.
The Paiute
This photo of members of the Paiute tribe was taken in 1872, twelve years after the devastating Paiute which all but wiped out their colony. Notice that by this point, the tribe has adopted a European standard of dress, because colonialism sucks.
Goldie Griffith
Goldie Griffith was an entertainer and sports personality. As part of Buffalo Bill's Wild West Show, she was a boxer and wrestler, and would also ride broncos and perform other stunts.
Surveying The Herd
While this looks like a movie still, it's actually a photo of a real cowboy in Genesee, Kansas from 1902. Real cowboys, after all, herd real cows. That's the same today as it was a hundred and twenty years ago.
The Displaced Navajo
This photo, taken near Fort Defiance, New Mexico in 1873, shows some of the displaced Navajo who were forcibly evicted from their land. Many Navajo did not survive the "Long Walk" to their new home on a reservation.
Olive Oatman
Olive Oatman was the daughter of a Latter-day Saint family who, after ignoring advice about hostile Native Americans in the area, were ultimately killed when they were viewed as a threat. Oatman was initially a slave, but after being purchased by a neighboring tribe, she was given a plot of land for herself and her younger sister. Oatman believed her rad awesome tattoos marked her as a slave, but they were likely a mark of acceptance into the tribe, as part of a rite that would grant her a prosperous afterlife.
Hitch Up Your Wagon
This photo, taken in Nebraska in 1886, shows a pioneer family on a journey for a new homeland. Everything they own is int he back of their wagon. It's interesting to think that families, as well as lone gunslingers, had such a big part in shaping the Old West.
A Dog's Life
This may look like a twee Disney movie set, but it's actually Fort Belknap Reservation in Montana, in 1906. A cowboy is attempting to roast a dead dog on a fire, although he doesn't seem to be managing it very well.
An Old West Family
Here we see eleven-year-old Jimmy McKinn, alongside his Apache "captors" in Arizona in 1886. According to reports, when he was eventually "rescued" and returned to his birth family, young McKinn objected, as he was desperate to instead stay with the Apache.
Keep Them Barrels Rolling
This photo, from Encinal, Texas, in 1905, shows travelers hauling a large barrel full of water. Good luck surviving the Texan sun without it.
Care For a Drink?
The Table Bluff Hotel and Saloon in Humboldt County, California certainly was the place to be in 1889. The decor really is something - notice the impressive bearskin chair.
Going For Gold
The Gold Rush of 1849 led many, many opportunists to risk all their worldly wealth - and their own safety - in pursuit of riches. Crossing Death Valley is never a light undertaking.
An Impressive Capture
Travelers were often beset by beasts - and that's when they weren't going out of their way to hunt for trouble. This gray wolf has been taken alive (and it's very impressive that the hunters have managed to keep it relatively still for the photo), but it probably didn't keep breathing long after this picture was taken.
An Armed Guard
If you had wealth and riches that needed transporting, it was better to do so as securely as possible. This photo shows some (presumably) wealthy travelers, accompanied by an armed guard as they cross Sierra Nevada.
The Darkroom Wagon
Many of the photographs in this gallery were the work of Timothy H. O'Sullivan. Photography was very different back then, requiring a darkroom to avoid overexposing pictures while negatives were being developed. For this reason, O'Sullivan traveled the West in his Darkroom Wagon, a special mobile photography studio, which can be seen in this picture.
The Navajo's Long Walk
This frankly striking photo from 1864 shows the Navajo "Long Walk." Forced from their homes at gunpoint and ordered to march into the desert, over nine thousand Navajo were evicted from their ancestral land and made to relocate three hundred miles away to a reservation.
Cowboy Bath Time
Even frontier dwellers need to bathe occasionally. These travelers are taking a break to wash themselves in a stream - anyone who's played "Read Dead Redemption 2" will know the importance of a cowboy smelling his best.
More Than Just a Showman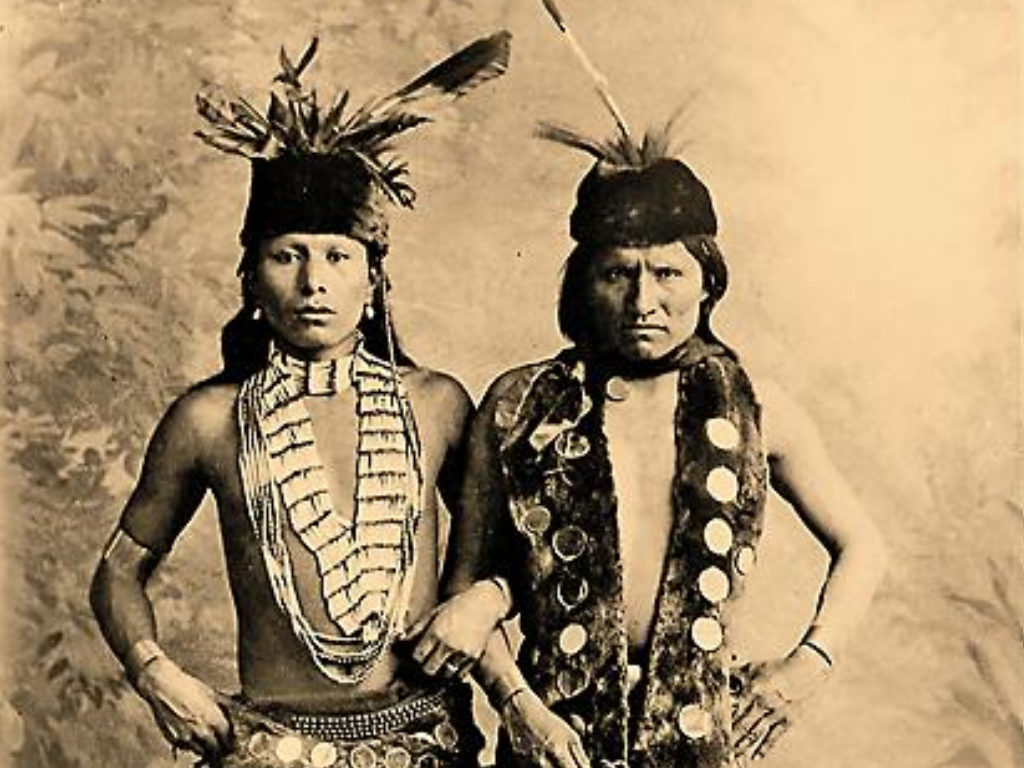 Black Elk (on the left) was a show Indian who performed for Queen Victoria and toured with Buffalo Bill's Wild West show. He also fought in wars between Native Americans and ever-expanding European settlers, including the Battle of Little Big Horn in 1876 and at Wounded Knee in 1890.
Cowboy Detectives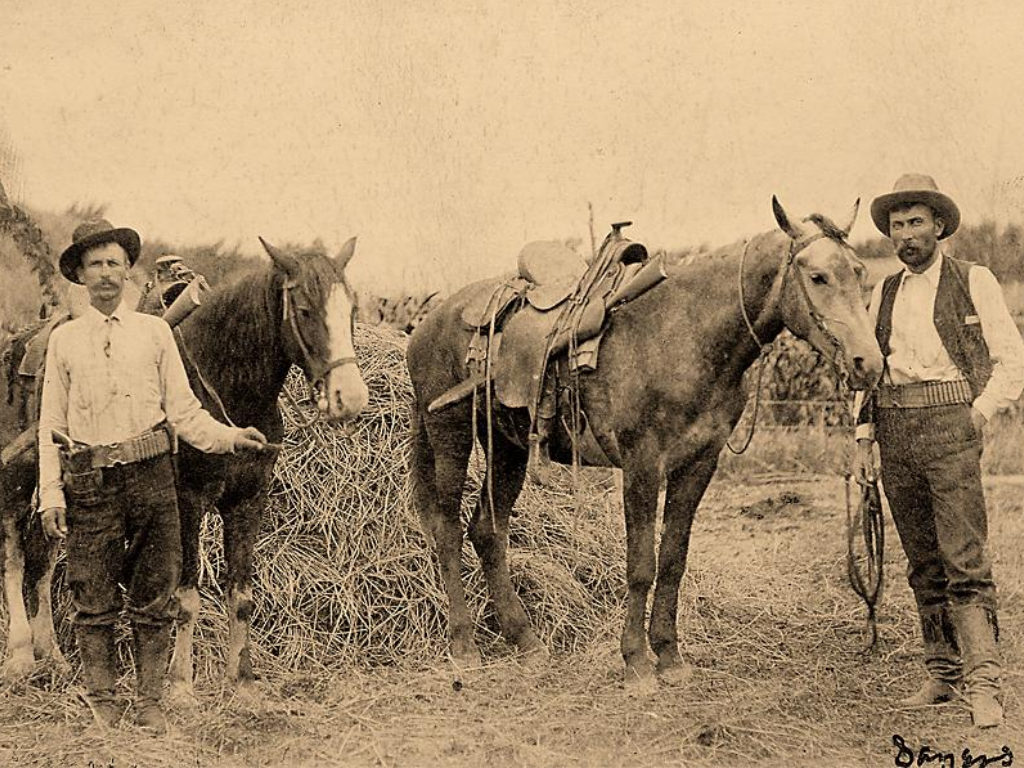 W.B. Sayers and Charles Siringo were lawmen who chased after The Wild Bunch, a gang of thieves. Siringo later wrote about his exploits in his book, "The Cowboy Detectives," but changed many people's names (including Sayers, who became W.O. Sayles) to protect their anonymity.
Custer's Last Photo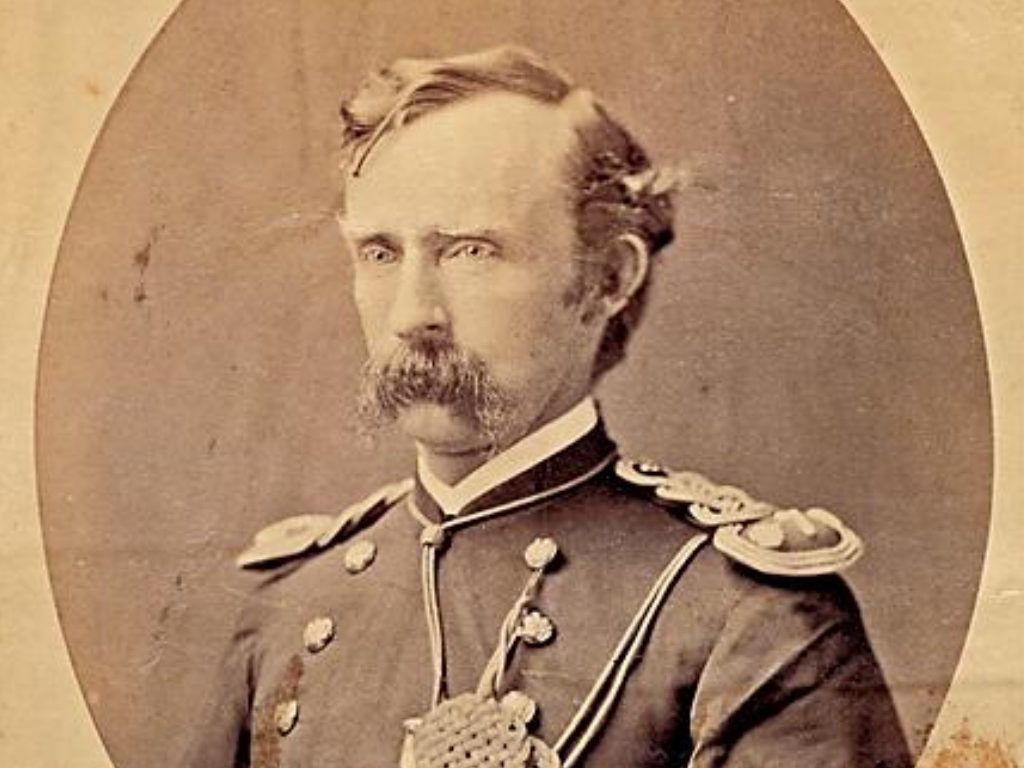 Here we see a photo of General George Armstrong Custer, taken not long before his death at the Battle of Little Big Horn. Custer was a big fan of photography, and posed for over a hundred and fifty photos over the course of his life.
Pioneer Lunchtime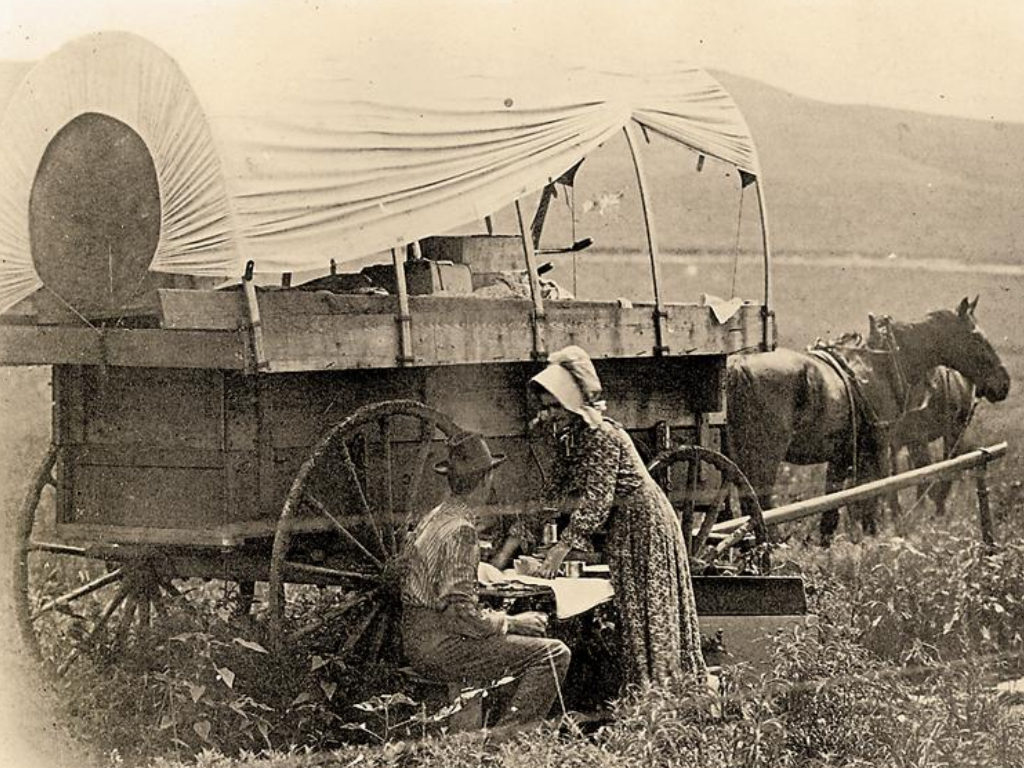 Many pioneers spent months crossing America's plains in the hopes of finding a new life and greater opportunities. Here a family can be seen pausing from their wagon journey to eat lunch.
Jesse James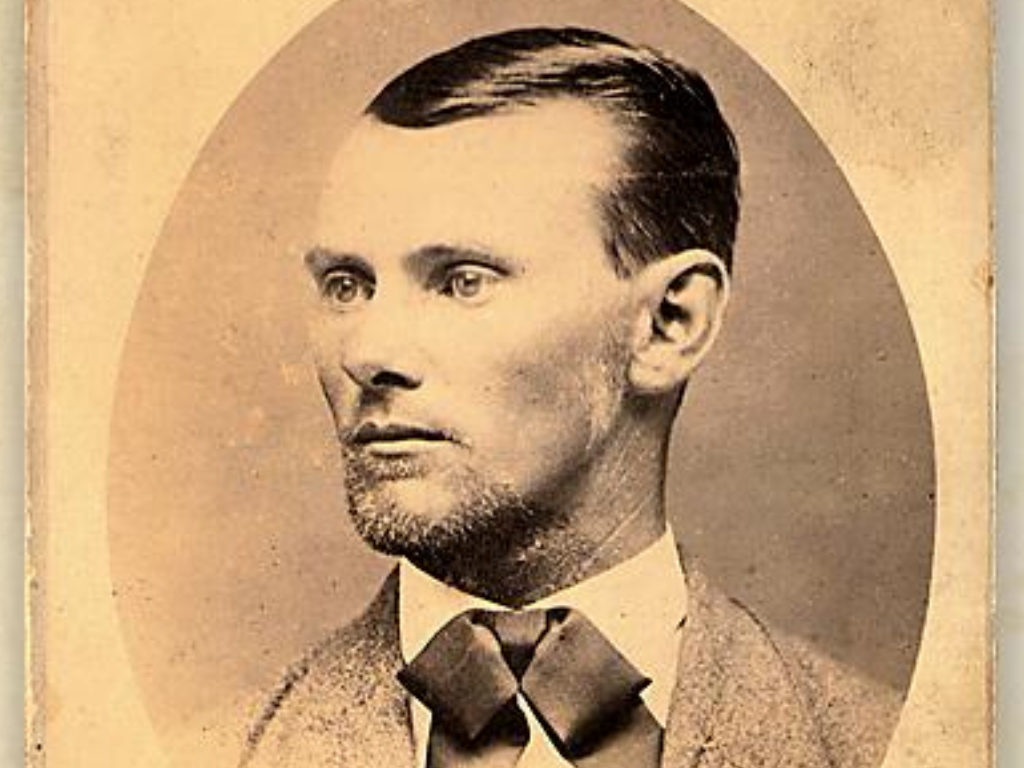 This handsome man is none other than Jesse James, one of the most famous outlaws of the era, and leader of the James-Younger Gang. This photo was likely taken the year he was killed, in 1882.
Quanah Parker Poses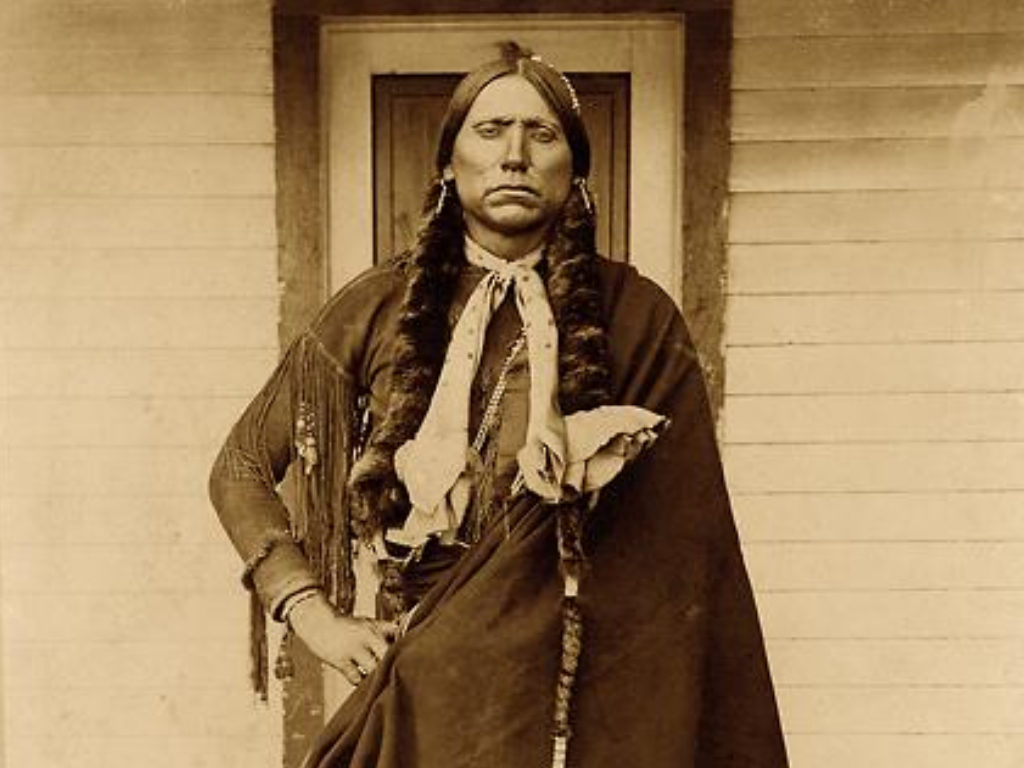 Another photo of the legendary Quanah Parker, who fought regularly against buffalo poachers who encroached on his people's land. Parker's father was a Native American, and his mother was a European, Cynthia Ann Parker.
A Possible Rustler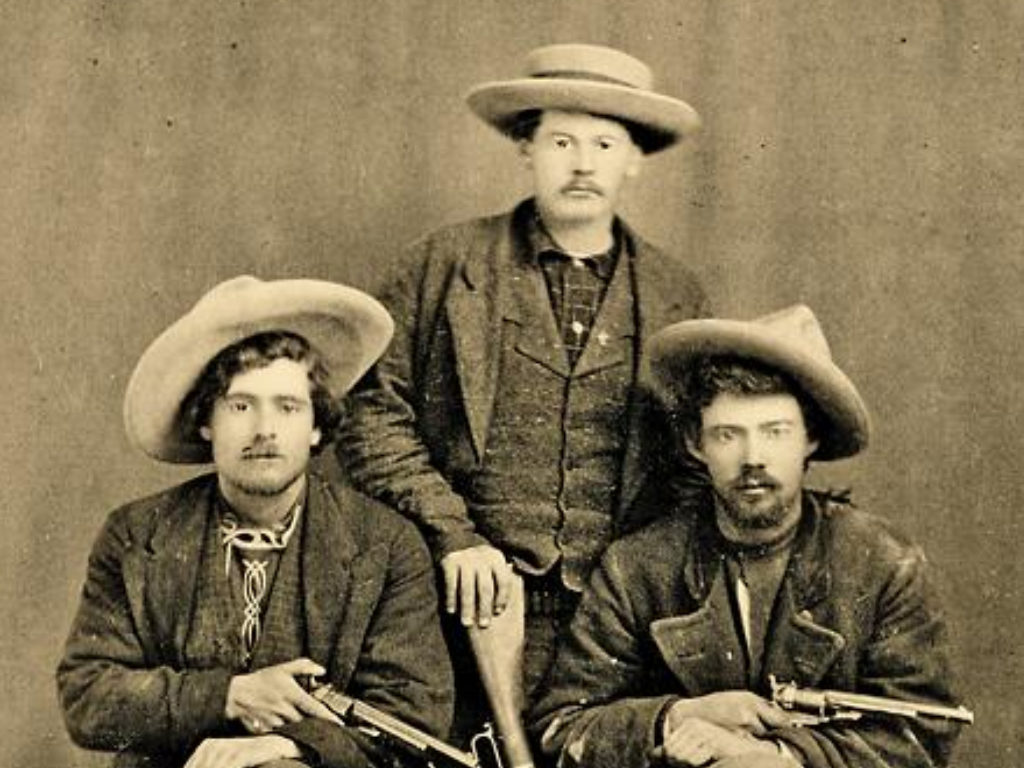 The names of these men have been lost to history, but some historians believe that the man in the middle is John Kinney, the leader of a band of cattle rustlers that operated in New Mexico in around 1875.
Slaughter's Cowboys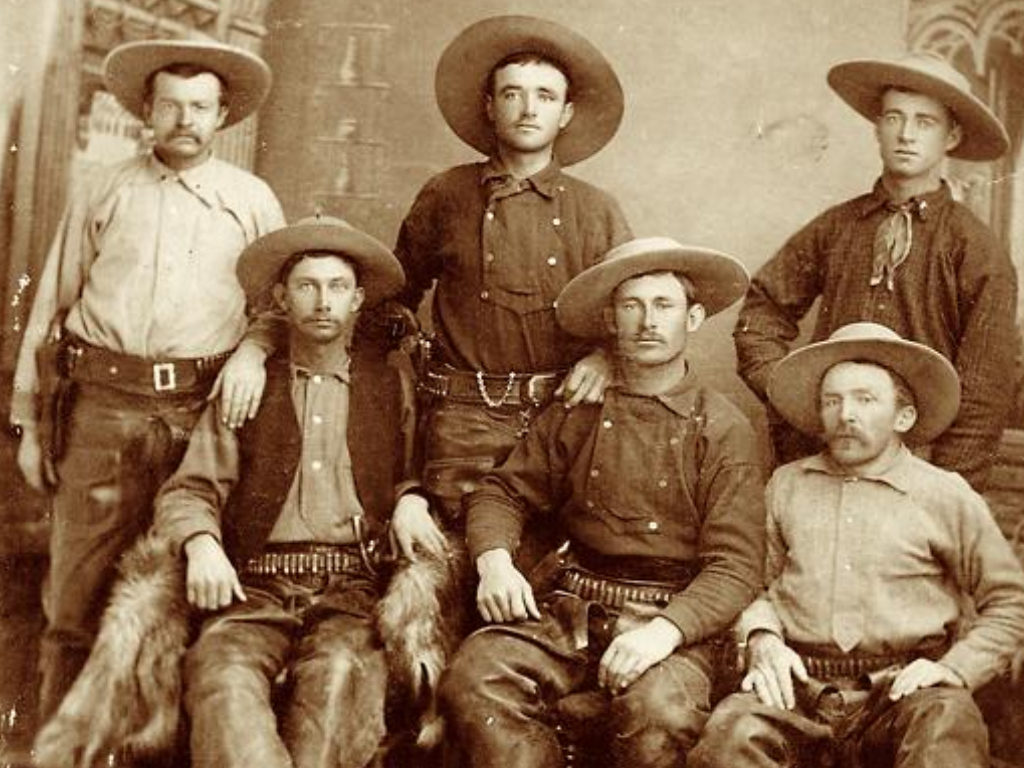 It's believed that these cowboys were farmhands who were employed by Texas John Slaughter, a former Texas Ranger who became a cattle businessman after the Civil War.
The Nebo Brothers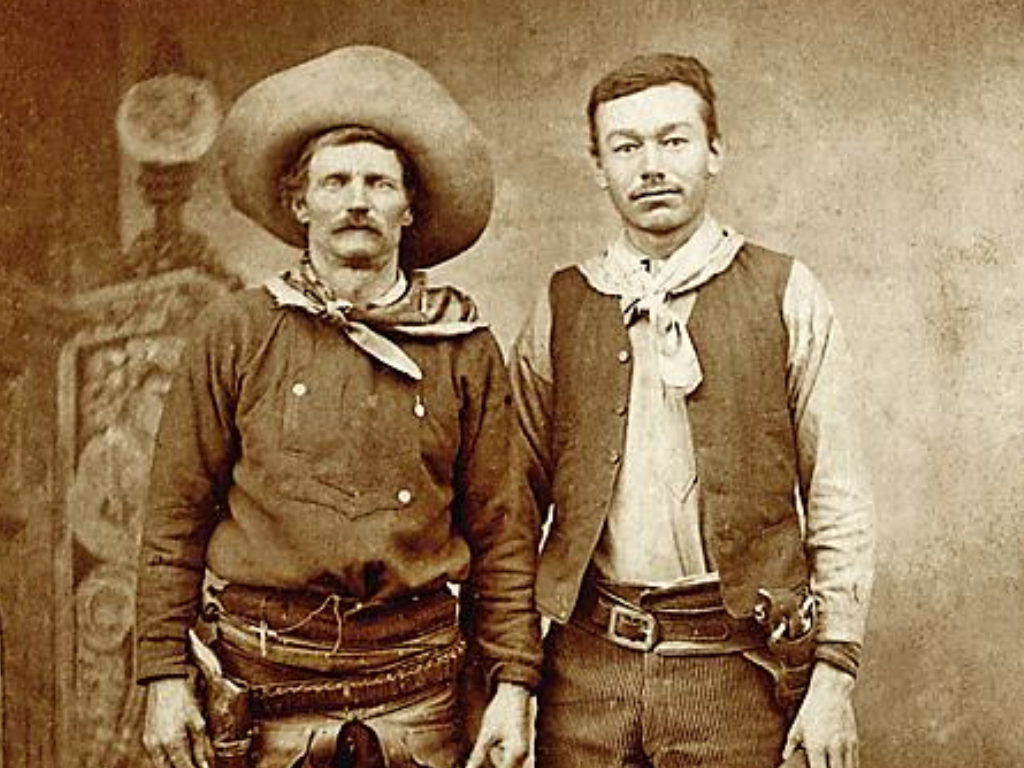 The Nebo brothers (Cottonwood Charlie on the left and Nick on the right) are here dressed in the traditional cowboy clothing of the time. The older of the two, Charlie ran a horse ranch.
A Legendary Outlaw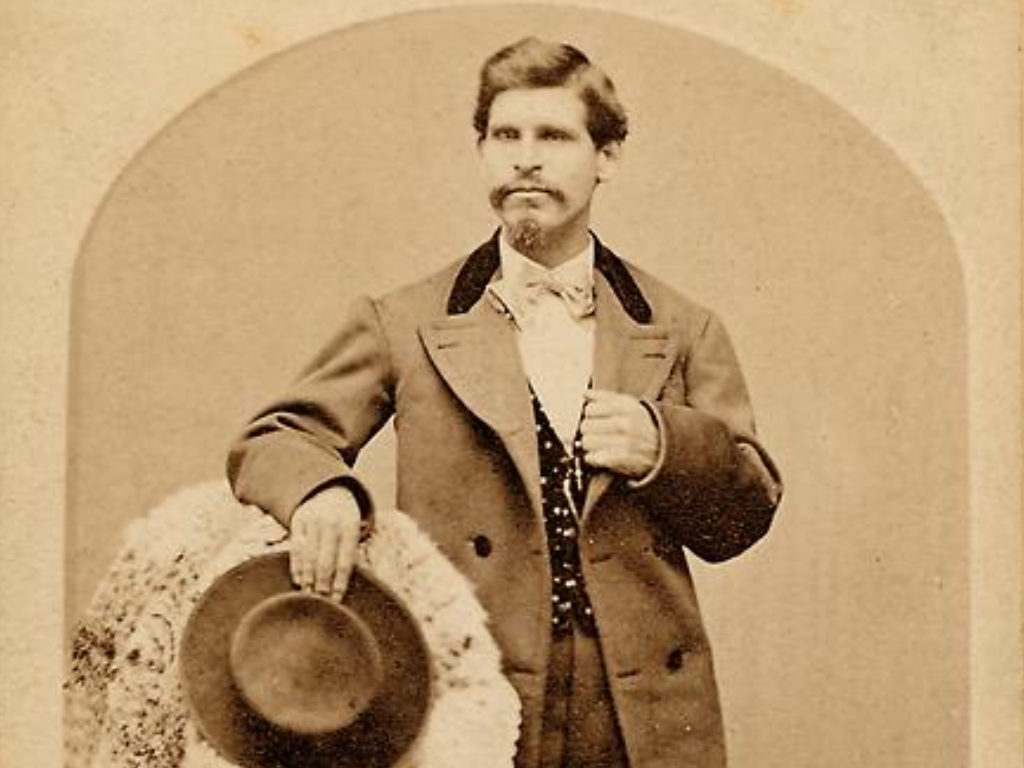 This photo from 1865 shows Tiburcio Vasquez, one of the most notorious outlaws of the era. Over the course of his twenty year career, Vasquez held up stage coaches, rustled cattle and committed robberies. He was finally caught and hanged in 1875.
A Pair of Famous Lawmen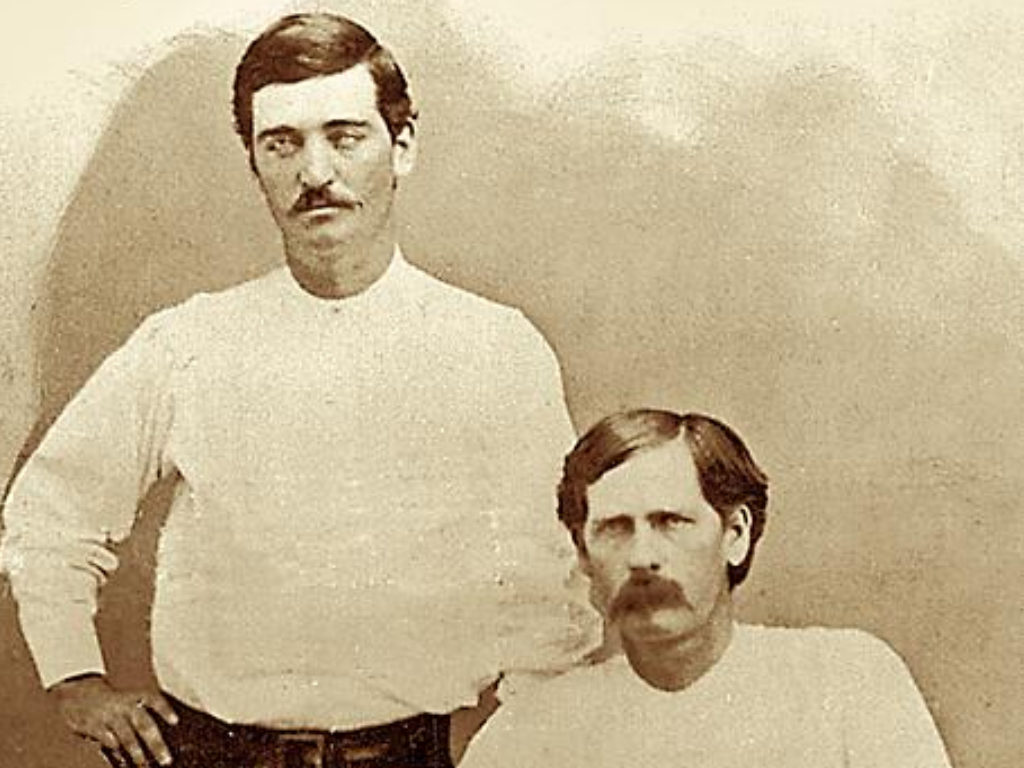 Two famous lawmen, Wyatt Earp and Doc Holliday, pose here together in a photo that was taken in 1876 in Dodge City, Kansas.
Last of the Paiutes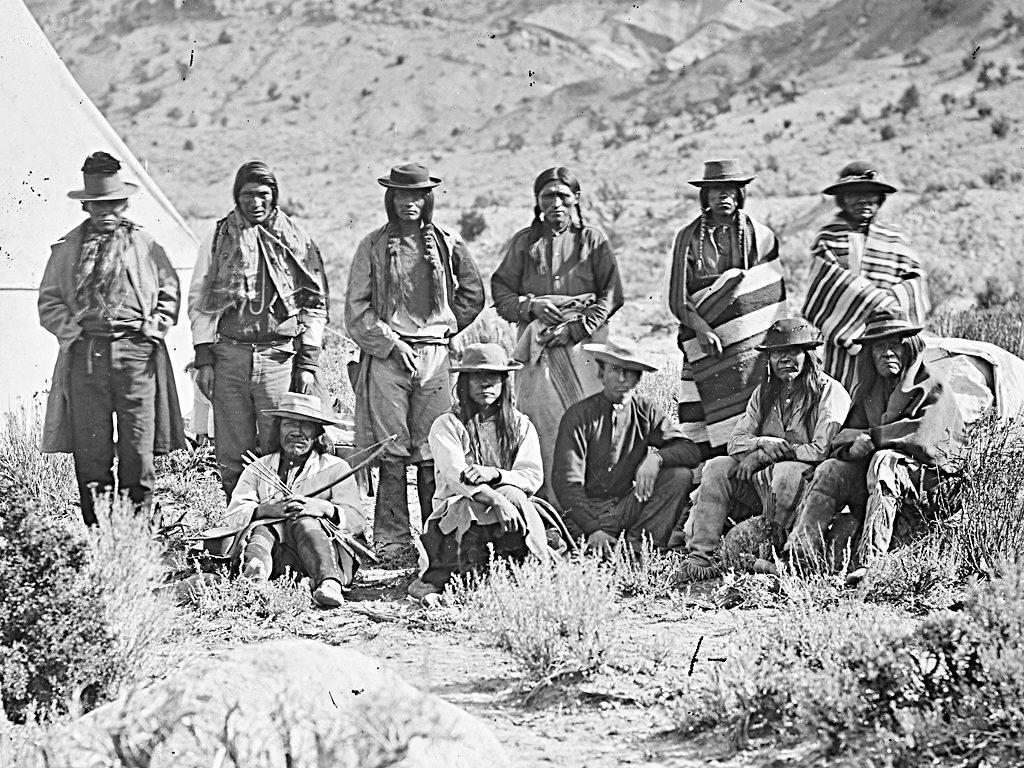 The Paiute tribe was almost entirely wiped out by US settlers in 1860 during the Paiute War. This photo, taken twelve years later, whoed a few of the surviving tribesmen.
A Wolf Ensnared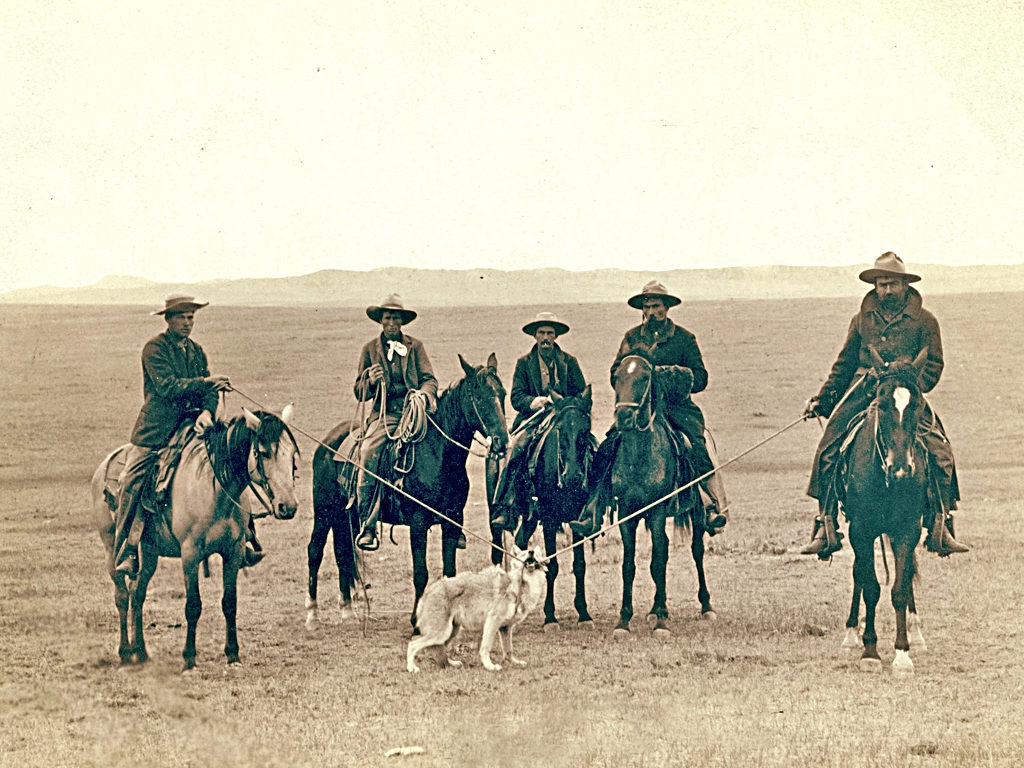 These cowboys have managed to catch a wolf alive, and, very proud of their accomplishment, have posed for a photograph. Catching this beast without killing it would have been no small feat.
Annie Oakley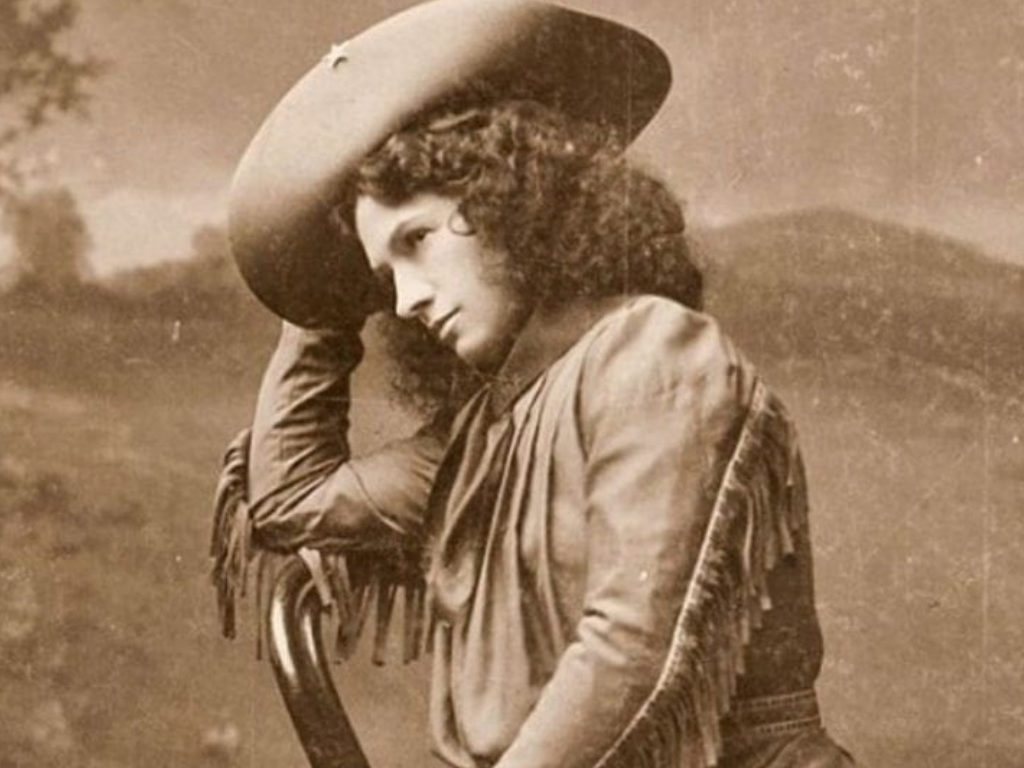 Probably the most famous show cowgirl of all time, Annie Oakley here poses in her traditional costume. Oakley started training as a cowgirl at age 15, and toured widely with Buffalo Bill's Wild West Show.
A Local Saloon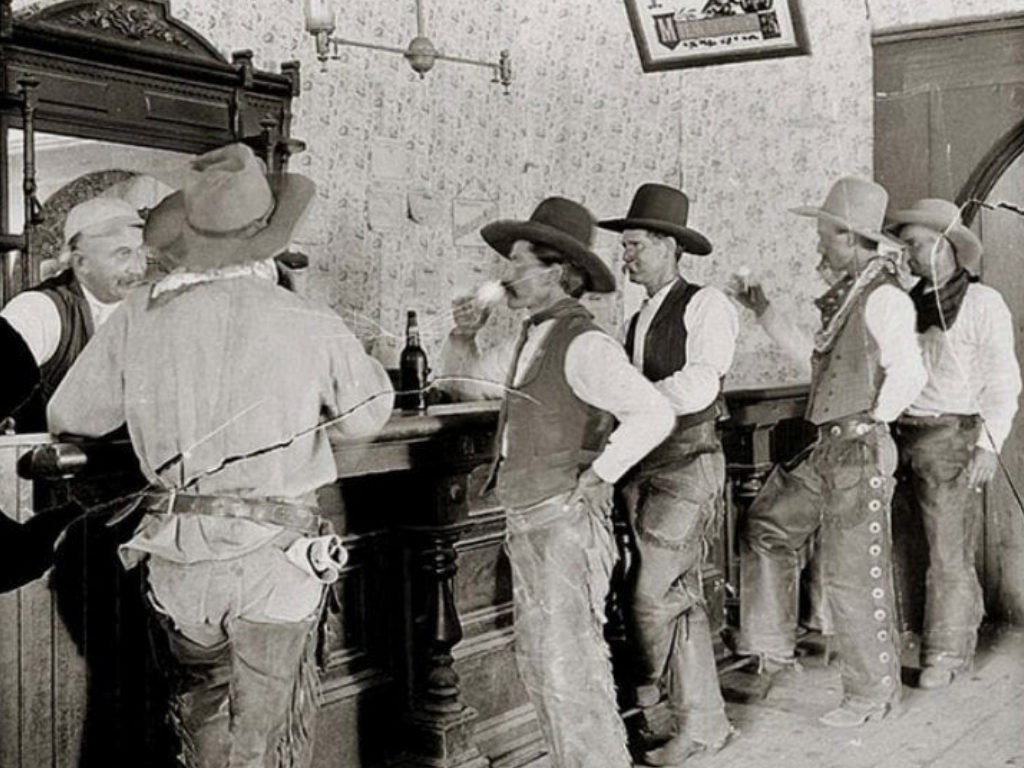 This photo shows a typical saloon in Old Tasacosa, Texas, as photographed in 1907. These bars were popular with cowboys, gold diggers, soldiers and travellers.
Charging Thunder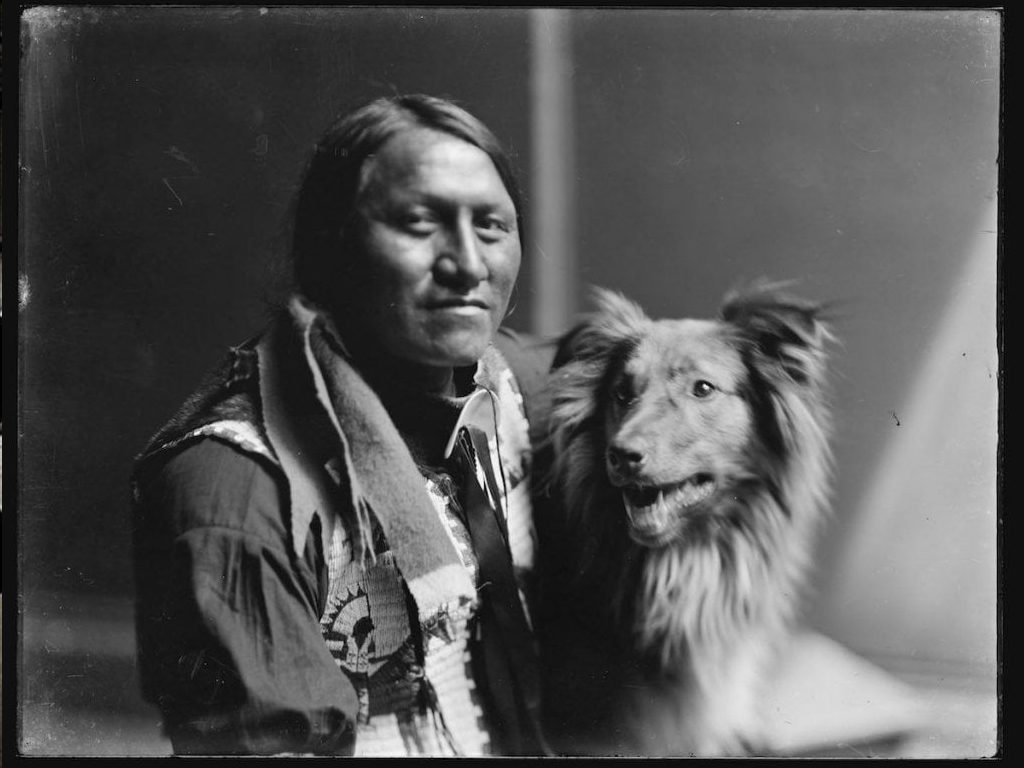 Lakota chief Charging Thunder joined Buffalo Bill's show when he was 26 years old, and eventually went on to marry one of the horse trainers who also worked with the show.
Maiman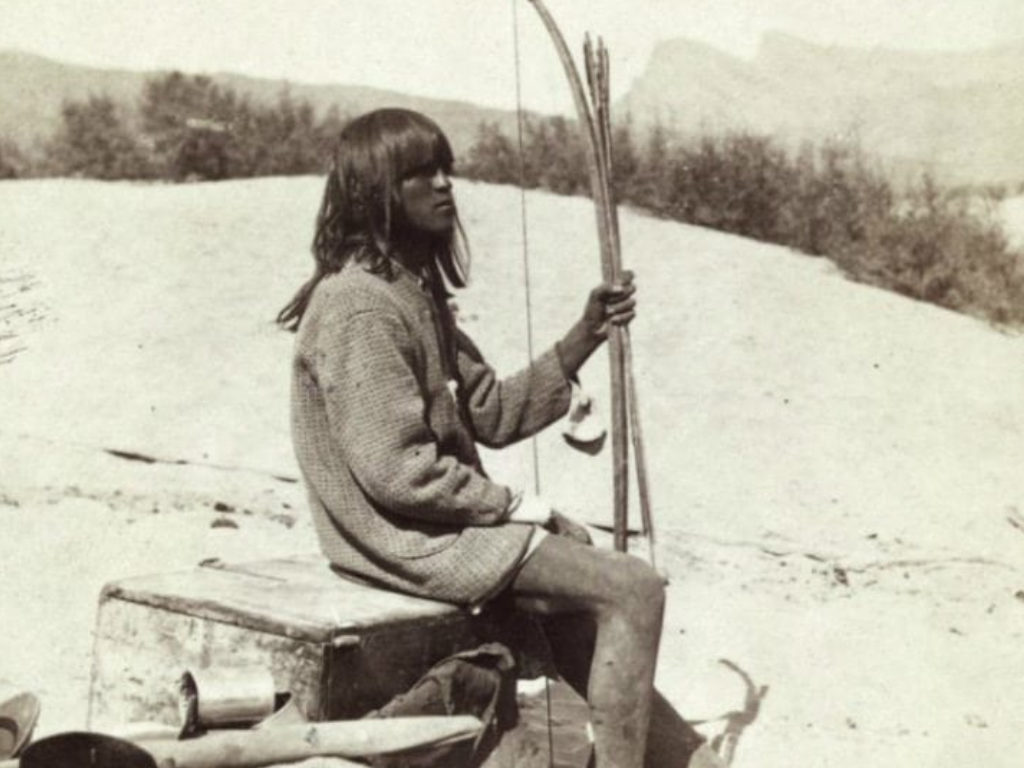 Maiman was a Mojave who worked as a guide and interpreter in Colorado during the 1870s. He often guided contemporary photographer Timothy O'Sullivan around the region to help him get the best possible photos, and in return, O'Sullivan took many photos of Maiman.
Oakley Dressed Up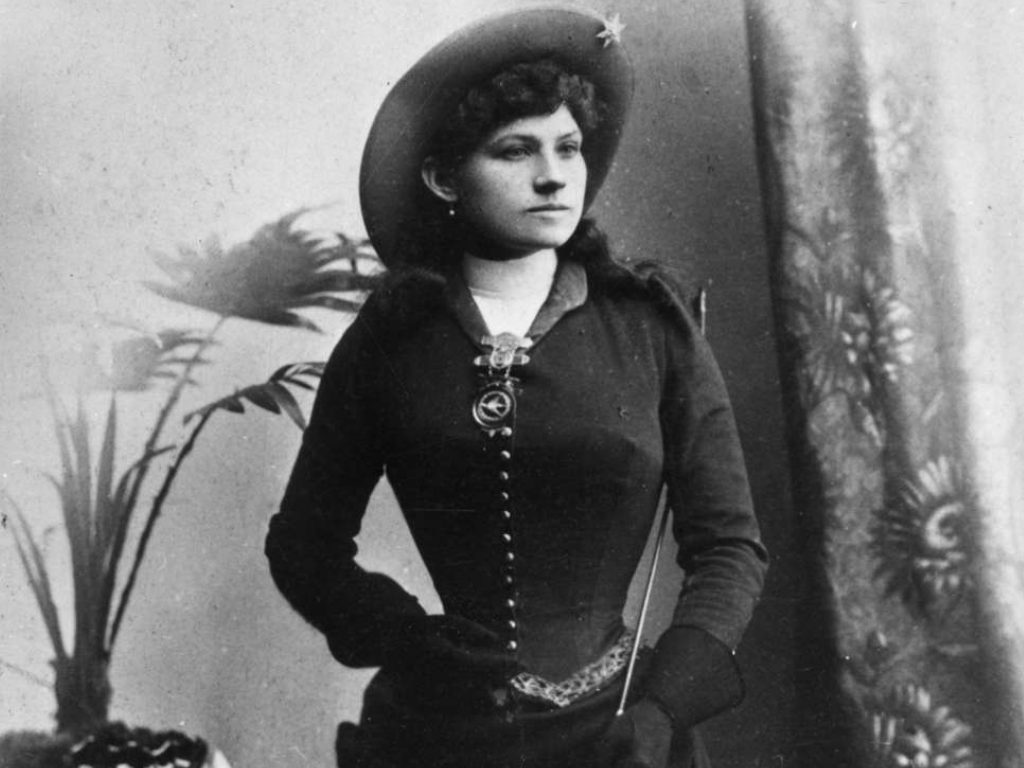 Another photo of Annie Oakley, this time wearing regular clothing instead of her stage costume. Oakley once had a rivalry with fellow marksman Frank E Butler, but the pair ended up falling in love and getting married.
Geronimo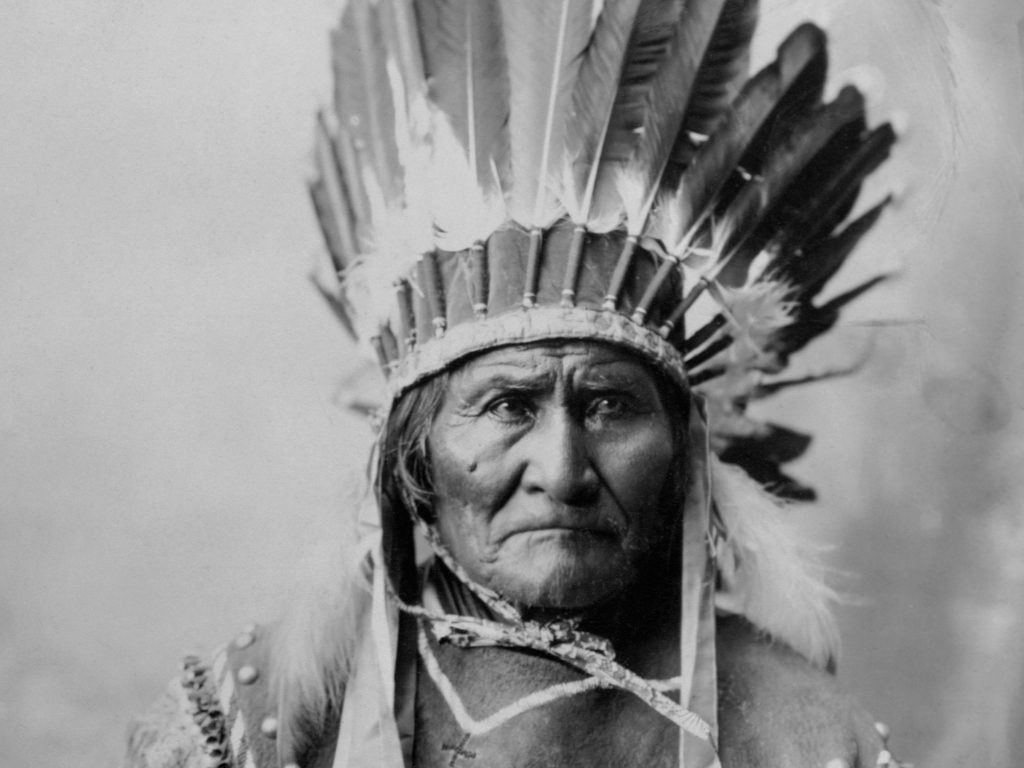 One of the most famous Native American leaders in history, Geronimo led the Apache tribe in various wars and skirmishes against both the US and Mexican military. Despite being at a technological disadvantage, Geronimo's troops were able to hold their own so well that it was believed that he had supernatural powers. Maybe he did.
Sheriff of Deadwood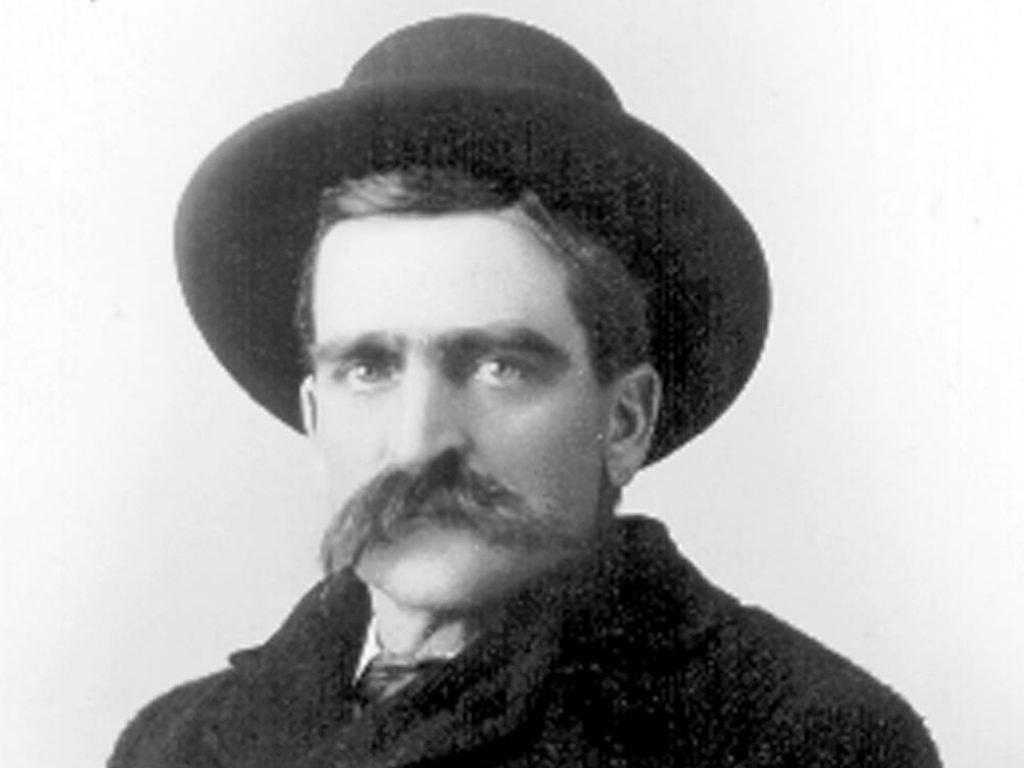 Seth Bullock was the sheriff of Deadwood before becoming one of Theodore Roosevelt's Rough Riders. He was known for being legendarily tough and maintaining order in his town at all costs.
The Daily Reporter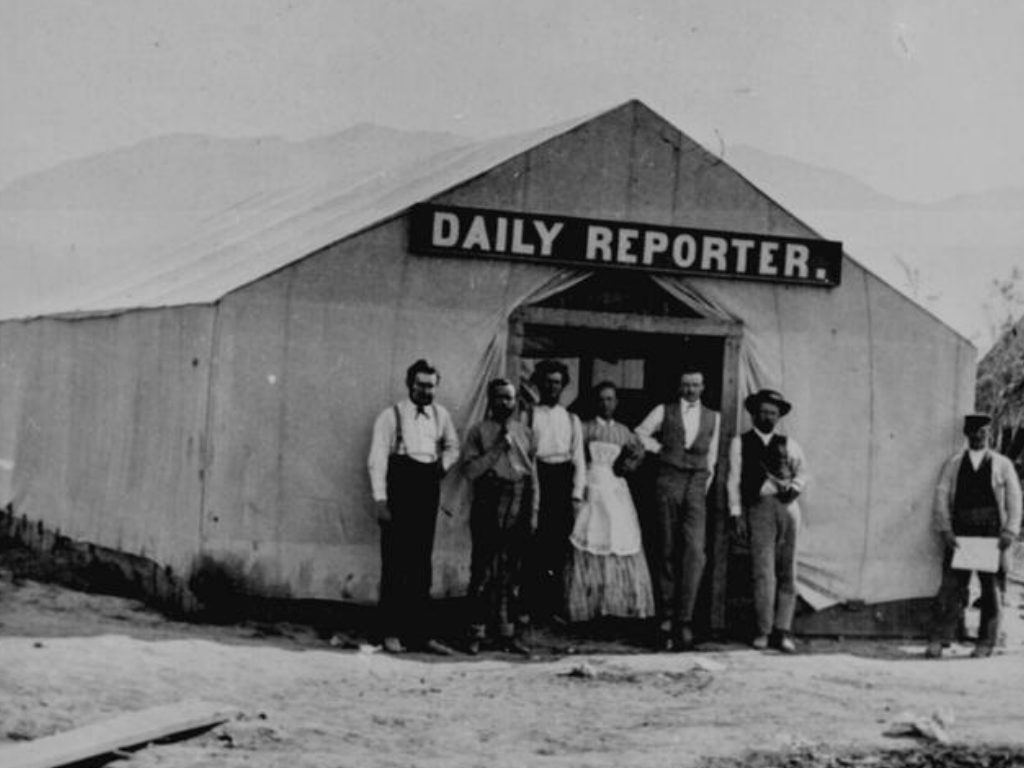 Journalists in the territory of Utah pose outside the press office for the Daily Reporter. This photo was taken in 1869.
Donkeys at Work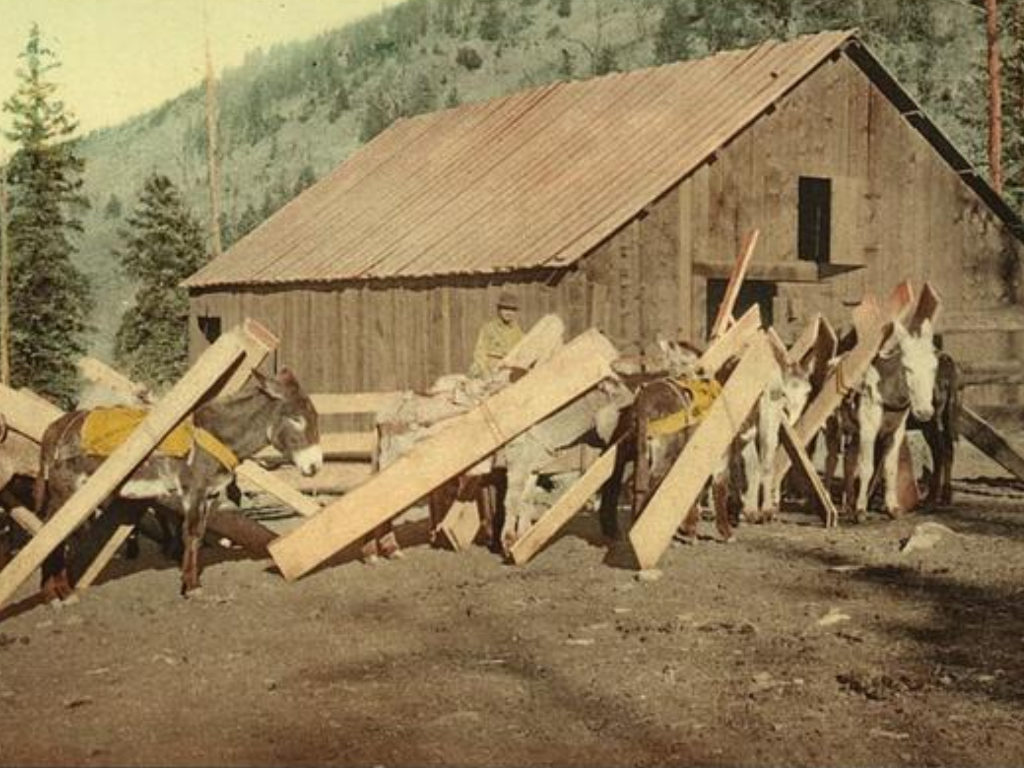 A caravan of burros hauling lumber in Colorado in 1898. This photo was originally taken in black and white but has since been colorized.
Schoolkids on a Cow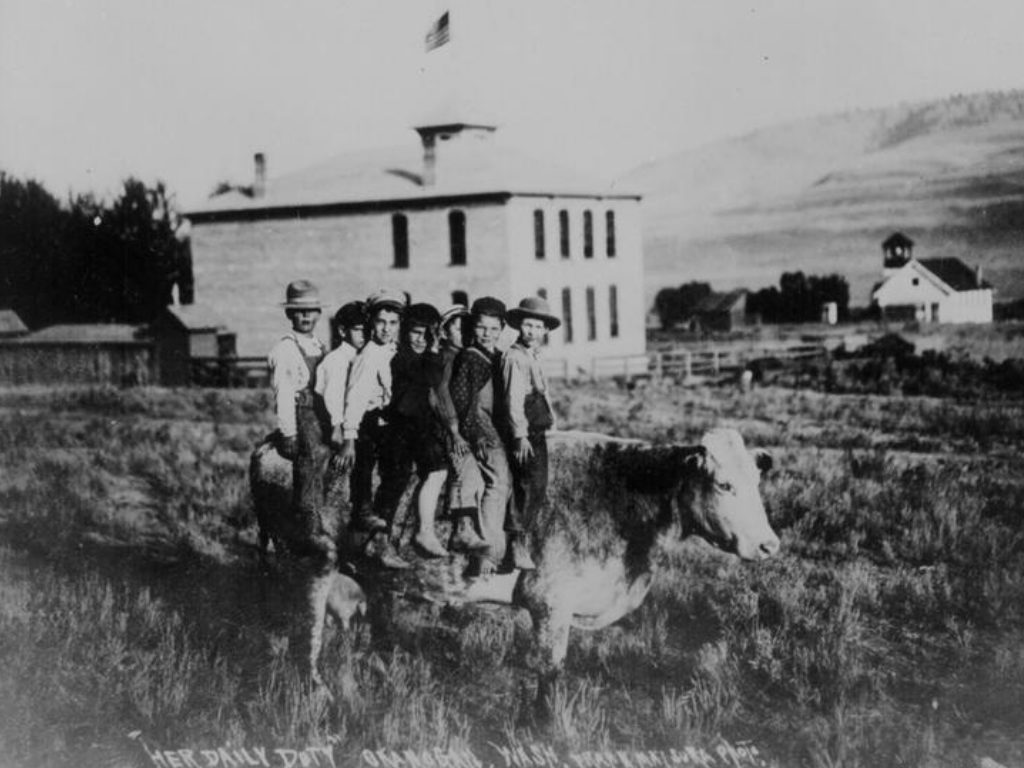 Who says real cowboys get to have all the fun? After a day of schooling, a group of children pile onto the back of a cow for a cute photograph. Considering camera limitations in 1907, staging this must have been a nightmare.
A Cowboy at Work
Another colorized (or "tinted) photo of the past, this picture shows a cowboy hard at work rounding up cattle.
A Union Pacific Steamtrain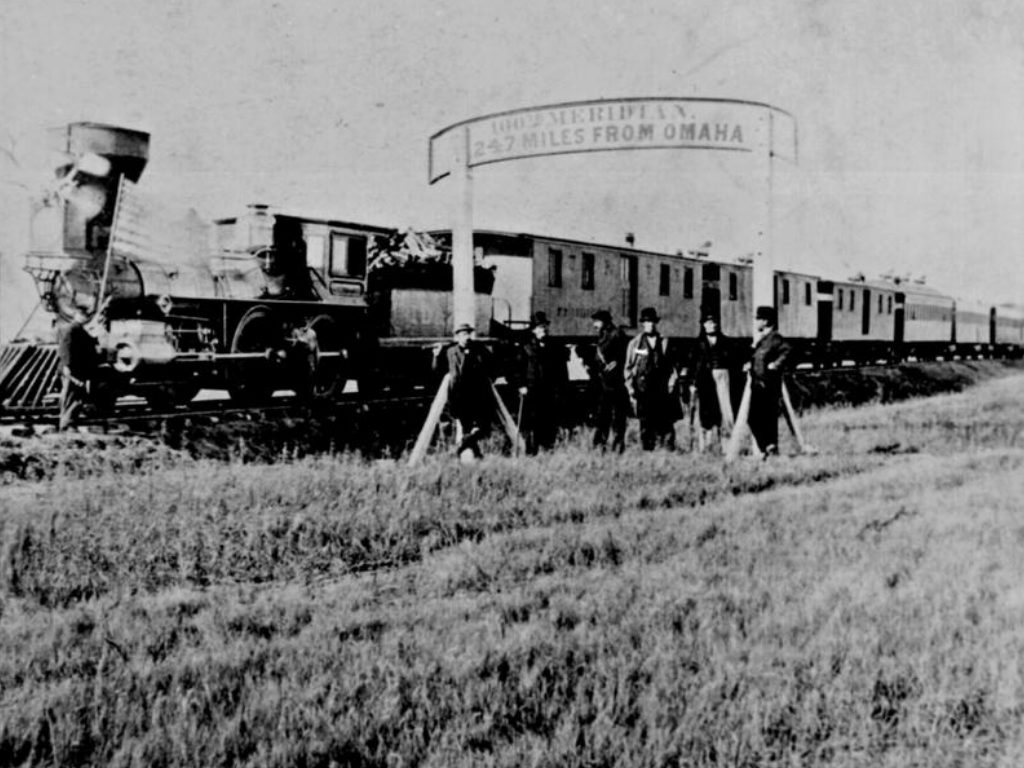 The railroad that bisected the United States was crucial to the expansion of white settlers to fill the region (and push back the original owners of the land). Here, Union Pacific employeed pose 247 miles outside of Omaha, Nebraska territory in 1866.